Providing staff transportation services can improve their productivity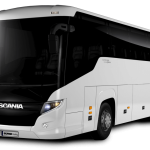 Getting an affordable and comfortable transport service in Dubai is a blessing. Many companies, offices, agencies, restaurants, schools, hotels, etc. are not providing transportation services to their staff. Employees who are coming far from their homes to work and waste hours, energy and money during travelling which makes them feel tired and exhausted especially in the sunny days when the sun is burning so as employees too and because of all these factors employee productivity can be decreased.
All the Organisations should make contracts to any bus transport company which has comfortable, hygiene-proof, air-conditioned buses. Staff transportation is a necessity, not a luxury. It will ultimately benefit the company's overall productivity. When will be having a relaxed journey so they will be more active and less exhausted thus they can perform better. When employees get the van transportation services or you can say pick & drop services with the lower rates then will be a bonus for them.
Staff Transportation service providers are available in Dubai. One of the best transportation services is providing by "BUS TRANSPORT COMPANY" which is located in Dubai and having their operation under the premises if Dubai only. They have all  range of buses available according to the strength of staff in your office  your company is a big bus or its a small start-up. Bus Transport Company has all types of buses such as Toyota Hi roof 13 / 15 Seater or 10 Seater Bus Toyota Hi ace is suitable for all those small start-ups which have less strength of employees. They have 30 Seats Coaster Bus and 35 Seater Bus for medium scale company's staff. And if your company is a big fish then 50 Seats Luxury buses or 60 To 80 Seater Bus with AC / Non AC are also available in the Bus Transport Company. Any type of organisation can hire their buses or minibuses for their staff for a monthly and yearly basis.
The second most important thing is cleanliness and punctuality of drivers. Bus Transport company has friendly and professional drivers who respect their passengers and they are focused on punctuality and cleanliness of all the buses.
If you want to use our service like, Bus Rental service, Minibus 15 seater service, passenger transport service, Pick and drop service, Staff Transport Service , Dubai Bus Services ,  coach bus rental , Minibus Rental Dubai , Hire 14 Seater Van with Driver, Van Transportation Services Dubai  or Truck Rental service in Dubai,  then please contact us.